Karim Al-Zand: Music: Die Mistel [Mistletoe]
---
Die Mistel [Mistletoe]
for baritone voice, piano quartet and vibraphone
Die Mistel [Mistletoe] was commissioned by baritone Dietrich Henschel as part of a special Weihnachts-Projektes [Christmas Project]. Twelve composers were commissioned to write short works reflecting on any aspect of the theme, sacred or secular.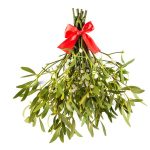 The pieces were recorded by Henschel and members of Ensemble unitedberlin in partnership with DeutschlandRadio. The recordings will be digitally released as part of a "12 Days of Christmas" musical Adventskalender [advent calendar]. Die Mistel [Mistletoe] reflects on a certain nostalgia and reminiscence that seems to me an important emotional facet of the holiday. It uses texts in English (Walter de la Mare) and German (Ferdinand Freiligrath) about mistletoe and its romantic associations. The CD X-mas Contemporary, with Dietrich Henschel, baritone; Ensemble unitedberlin, Vladimir Jurowski, conductor on FARAO Classics B 108 106.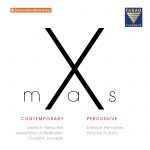 Mistletoe
Sitting under the mistletoe
(Pale-green, fairy mistletoe),
One last candle burning low,
All the sleepy dancers gone,
Just one candle burning on,
Shadows lurking everywhere:
Some one came, and kissed me there.
Tired I was; my head would go
Nodding under the mistletoe
(Pale-green, fairy mistletoe),
No footsteps came, no voice, but only,
Just as I sat there, sleepy, lonely,
Stooped in the still and shadowy air
Lips unseen—and kissed me there.
Walter de la Mare
Mit der Festzeit Laub
Ist das Haus bekränzt
Die Tanne duftet,
die Stechpalme glänzt,
Und vom Balkonknauf,
weißbeerig sie,
Lauscht die Mistel nieder,
die Schelmin, die!
Ferdinand Freiligrath
"Misteltoe" by Walter de la Mare (1873-1956) from Peacock Pie (1913). Excerpt from Ferdinand Feiligrath (1810-1876) "Fürs schwarze Land" [For the black country] (Weihnachten 1866).
Translation:
[The chamber is decked
With the festal bough,
The fir sheds its fragrance,
The hollies glow.
The mistle-toe beckons
From rafter and beam;
White-berried, it glistens
With roguish gleam.]
---
DATE
2018
DURATION
5 minutes
INSTRUMENTATION
baritone voice, violin, viola, cello, piano, vibraphone
COMMISSION
Dietrich Henschel
PREMIÈRE
December 7, 2019 | Konzerthaus Berlin
Dietrich Henschel, baritone | Ensemble unitedberlin
---
AUDIO

MP3
---
SCORE
PDF
© 2015 KARIM AL-ZAND