Karim Al-Zand: Music: Let Down the Scale of Music from the Sky
---
Let Down the Scale of Music from the Sky
for solo organ
Let Down the Scale of Music from the Sky borrows music from Henry Purcell's Magnificat and Nunc Dimittis, the composer's so-called "Evening Service," written for mixed chorus.
The beginning of my solo organ work presents two short and plaintive phrases, drawn from the Purcell, which together form a gently descending scale. This gesture is used as a sort of repeating refrain in the piece, a "ground." The work's title is drawn from an encomium by poet John Dryden, written in 1695, entitled An Ode, On the Death of Mr. Henry Purcell.
The Heav'nly Choir, who heard his Notes from high,
Let down the Scale of Music from the Sky.
Let Down the Scale of Music from the Sky was commissioned by the American Guild of Organists for the 2023 Ronald G. Pogorzelski and Lester D. Yankee Annual Competition, and was written to be premiered on the Pogorzelski/Yankee organ at Indiana University Pennsylvania.
---
DATE
2022
DURATION
12'00"
INSTRUMENTATION
organ
COMMISSION
American Guild of Organists
PREMIÈRE
Spring 2023
---
VIDEO
---
SCORE
PDF
---
PROMOTIONAL MATERIALS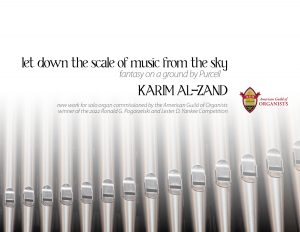 © 2015 KARIM AL-ZAND