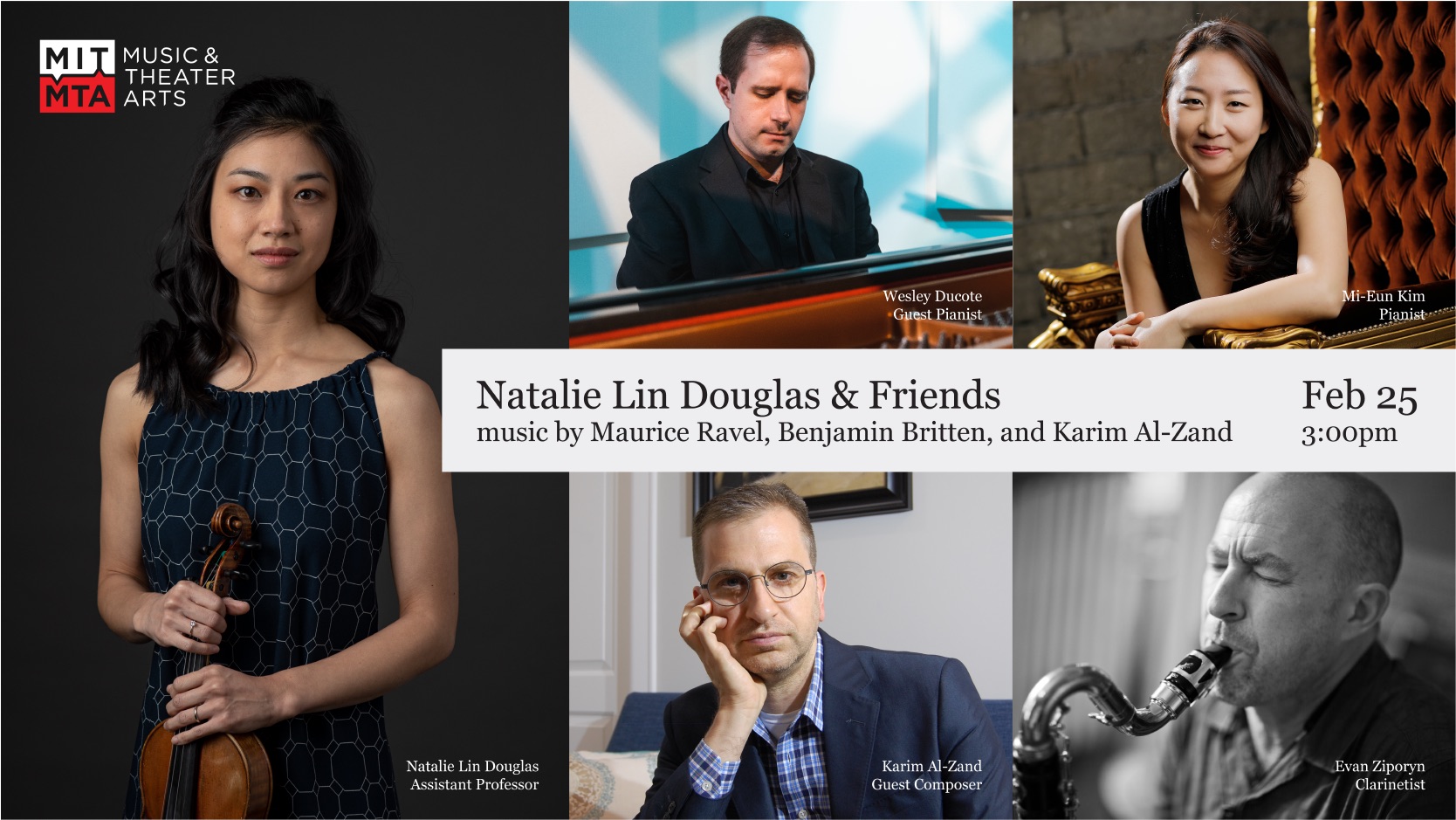 Natalie Lin Douglas will perform several works in a February 25th concert at MIT, assisted by Wesley Ducote, Evan Ziporyn, and Mi-Eun Kim. The recital will feature Loop Studies, a work for violin and looper pedal, written for Lin Douglas in 2021 as a "pandemic project." Also on the program is Imaginary Scenes (for violin and piano) and Stomping Grounds (for violin, clarinet and piano).
A new work for flute and piano, Ignoble Dances, commissioned by a consortium of 50 flutists, was presented at the National Flute Association 2021 Convention. The event, held online from August 12–15, featured a filmed performance by flutist Matthew Roitstein (Houston Symphony) and pianist David Roitstein (head of Jazz Studies at CalArts). The work was supported through a consortium of 50 flutists from around the US and Canada. These flutists (listed below) will present performances of the work in the coming months and seasons.
The film of Ignoble Dances will be released publicly by Musiqa on October 1st, as part of their 2021–2022 season. In conjunction with the release, an "Educational Explorer" module, designed for middle and high school students, will give the piece musical and historical context. A live performance of the piece will follow in April 2022.
Ignoble Dances was written in 2020, and its music reflects upon that disconsolate year. The seven short dances draw musical influence from a variety of sources. The title of the first movement, "Antemasque," refers to a "buffoonish dance" that precedes a masque, a courtly entertainment of the 16th century. Of course, the word has gained another meaning in 2020, one that is equally buffoonish. Here the flute plays an urgent tune over an obstinate bass (ostinato). "Dance of Duplicity" presents a wistful slow drag (a ragtime two-step) gradually undermined by repeated interruptions. "Dance of Denial" is based on the Italian tarantella, in which those bitten by the tarantula spider dance in a feverish trance until they collapse. "Distanced Dance" is a melancholy solo for flute alone. In "J. B. Dances a Jig in the Gloom," a surprisingly cheerful flute tune emerges from the piano's somber haze. "Dog Whistle Dance" features the piccolo and the highest register of the piano in strident rhythmic interplay. The set concludes with a pavan: a slow, stately Renaissance dance. In 1648, composer Thomas Tomkins wrote a lament in memory of King Charles I, entitled "Sad Pavan for These Distracted Tymes." In my pavan, which draws on the Tomkins, it is the music that is distracted and the times that are sad.
commissioners:
Hilary Abigana, Claudia Anderson, Amanda Blaikie, Leone Buyse, Christopher Chaffee, Michelle Cheramy, Douglas DeVries, Judith Dines, Aralee Dorough, Cobus du Toit, Jill Felber, Brook Ferguson, Steven Finley, Lisa Garner Santa, Marianne Gedigian, Brandon Patrick George, Emma Gerstein, Michael Gordon, Nave Graham, Jennifer Grim, Christine Gustafson, Hannah Hammel, Elise Henry, Jill Heyboer, Christina Jennings, Trudy Kane, Jennifer Keeney, Cynthia Kelley, Sherry Kujala, Stephen Kujala, Walfrid Kujala, Kathryn Ladner, Christina Medawar, Norman Menzales, Diana Morgan, Erica Peel, Catherine Ramirez, Leslie Richmond, Matthew Roitstein, Elizabeth Rowe, Rosalina R. Sackstein, Adam Sadberry, Marisela Sager, Julie Scolnik, Christina Smith, Yoobin Son, Nancy Stagnitta, Wendy Stern, Mark Teplitsky, Ebonee Thomas, Caen Thomason-Redus, Linda Toote, James Walker, Viviana Wilson, Heather Yarmel, Natalie Zisman
On March 17th, 2021, in the midst of the COVID pandemic, Shepherd School of Music composition students participated in a unique concert of new music at Rice University's 50,000 seat football stadium. Five new, site-specific works were composed by graduate students Nicky Sohn, Jake Sandridge, Grace Ann Lee and Daniel Leibovic, and by undergraduate Alex Moreno—works especially designed to be performed within the "extreme distanced" environment of the stadium. The collaborative project involved the school's brass and percussion students, who rehearsed and performed the works over the course of several weeks, assisted by staff conductor (and light saber brandisher) Jerry Hou. The result was a memorable and unique concert on a massive spatial scale, occasioned by performance restrictions in the era of COVID. Full footage of the concert can be found below.